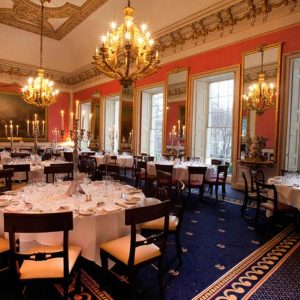 Join The Canning Club and enjoy:
– A 'Home from Home' in Mayfair
– Dual membership of the Canning Club and the In & Out Club
– Formal and informal dining & bars to fit every need and occasion
– Invitations to exclusive events
– A Business Centre where members can work remotely
– A Health Club with a gym and a swimming pool
– Accommodation at competitive prices
– Access to 130 reciprocal clubs around the World
Since its inception, the Canning Club has provided a comfortable London home for members of the Latin America connected community in the UK.
We welcome both men and women from a wide range of backgrounds. However, it is appropriate for candidates for membership of the club to have a connection with or a keen interest in Latin America, whether it be by family association, residence past or present, study, diplomacy or commerce.
Membership of the Canning Club gives full access to the facilities and events of the In & Out Club, whose premises we share. 
Normal Club procedures require you to have a Proposer and Seconder, the Proposer being a Member of at least two years standing. In exceptional circumstances, the Membership Committee may consider a potential Member without sponsors following an interview with two senior members. In this instance, a suitable covering letter would need to accompany an application form.
Subscriptions are confirmed on receipt of the application form.
If you're interested in becoming a member of the Canning Club, please get in touch at info@thecanningclub.co.uk.