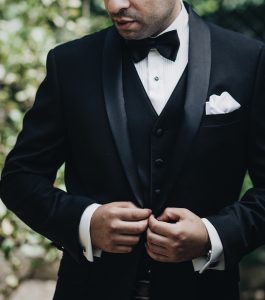 Gentlemen: a suit with a tie or sports jacket or blazer with tailored trousers and a collared shirt and tie is considered standard Club attire.
Ladies: please dress in smart separates, elegant dresses or business attire.
Casual Dress is permitted in the Courtyard, Library, Cowdray Brasserie, and Business Centre. If in casual dress, members and their guests can use both entrances.
From 5pm on Fridays until 11am on Mondays, Casual Dress is permitted throughout the entire Clubhouse, with the exception of the Long Bar and the Coffee Room.
All outerwear, luggage, shopping bags and umbrellas are to be left with reception or hung in the cloakroom. Ladies handbags are permitted, and briefcases may be taken into the Business Centre.
For Club events, please adhere to the dress code for the event you are booked to attend. If unsure, please check your confirmation email or speak to the Events Team.
Use of electronic devices in public areas
Please refrain from the use of mobile phones, personal computers and other electronic devices unless in the Business Centre. Electronic reading devices such as an iPad or Kindle are permitted.
Business
Business meetings and the use of business papers of any form are only permitted in the Business Centre.
Children
We love children and they are our future, however supervision under parental control is always appreciated.
Children over the age of 12 are to adhere to dress regulations. Children under the age of 12 are not permitted in the Coffee Room, except for breakfast, without prior approval from the Club Secretary.
Noise
After 11pm, noise must be kept to a minimum.